Annual Report January/March 2019
Welcome to our annual report for January 2019 to March 2019.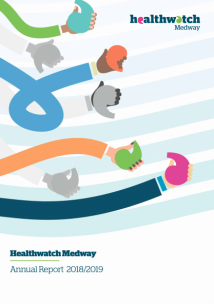 Summary
Throughout January 2019 and March 2019, 81 people shared their health and social care story with us.
To find out what we have achieved during this time and what we are planning for next year, check out our annual report below.
Key findings
We already have 9 volunteers who have given us 60 hours of their time in just 3 months

We visited 37 services and events so far this year to gather peoples' feedback and promote Healthwatch to Medway residents.
We have launched a brand-new website and Facebook. In this time we had 925 people view our website.