Will you get a flu jab this year? Start thinking about it now!
Influenza, or flu, is a viral infection that can cause an unpleasant respiratory illness with symptoms such as fever, exhaustion, and cough. Luckily after a few days in bed most people recover.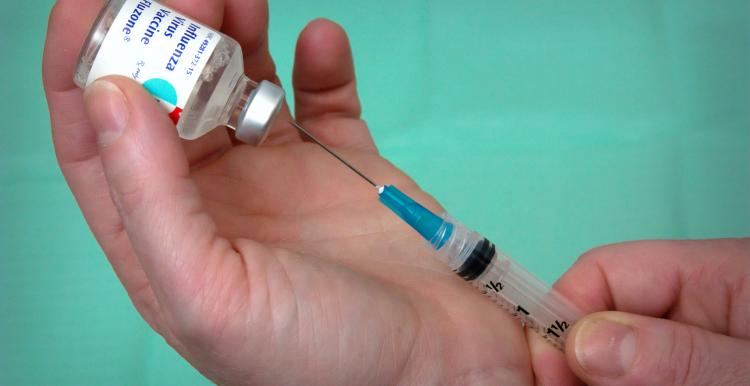 However, it can cause severe illness and even death among vulnerable groups including older people, and those with an underlying health condition.
Does this sound familiar? 
The same thing is said for the Covid-19 pandemic that we are all experiencing right now.
In the UK, the flu season runs from about October to March. Flu is not an illness to be dismissed. Public Health England estimates that an average of 17,000 people die from flu and its complications every year in England with many more people admitted to hospital.
In addition, for both the flu and Covid-19, whilst the elderly and those with underlying conditions are more susceptible, flu also hits children and spreads readily in schools and from there to their families and to the wider population.
Scientists and Healthcare workers are worried about the double whammy of a bad flu season and Covid-19 this autumn and winter as this could overwhelm our NHS and Social Care services.
Currently there is no vaccine for Covid-19 but (thankfully) we have one which can help protect you from flu. The NHS is encouraging more people than ever before to get a flu jab.  Not only will it mean you should be protected from influenza, it will also mean that the flu virus will not spread as rapidly so you will be helping to protect people who may be really vulnerable.
Covid-19 appears to be taking off again in the UK, so by getting a flu jab you will also be helping to reduce the number of people attending and/or being admitted to hospital with flu allowing our NHS to focus their resources on treating patients with Covid-19. 
So, please get your flu jab this year. Millions of us are eligible for a free vaccine and this one small step we can all take to help our NHS and social Care.  
Are you eligible for the free vaccine?
This year, the NHS is offering more people than ever a free vaccine.
If you fall into one of these categories, then you will be eligible for a free vaccine:
adults 65 and over
people with certain medical conditions (including children in at-risk groups from 6 months of age)
pregnant women
people living with someone who is at high risk from coronavirus (on the NHS shielded patient list)
carers including people who look after an elderly or disabled person
children aged 2 and 3 on 31 August 2020
children in primary school
children in year 7 (secondary school)
frontline health or social care workers
Later in the year, the flu vaccine may be given to people aged 50 to 64. More information will be available later in the autumn. However, if you are aged 50 to 64 and in an at-risk group, you should not delay having your flu vaccine.
You can find more information here  (www.nhs.uk/conditions/vaccinations/flu-influenza-vaccine).
Even if you are not eligible you can get vaccinated at pharmacies for a small fee.
What are you waiting for?!!
We may not be able to protect ourselves against Covid-19, but we can protect ourselves from flu and avoid the risk of getting both at the same time.
By helping ourselves, we will also be helping the NHS and social care and helping to focus on caring for people with coronavirus.
Have you had the flu jab? ---Tell us your experience
We really want to hear from you if you have had the vaccine or are trying to get one. 
Every piece of feedback that we hear will be used to help improve the system for other people. We make sure decision makers hear your feedback so they can do something out it.  If you do not tell us, then things will not change.
Get in touch here or call our friendly freephone Helpline on 0800 136 656