What's it really like to be a parent, teacher, cook, cleaner, partner as well as a work colleague?
We hear from working parents about how lockdown is affecting them.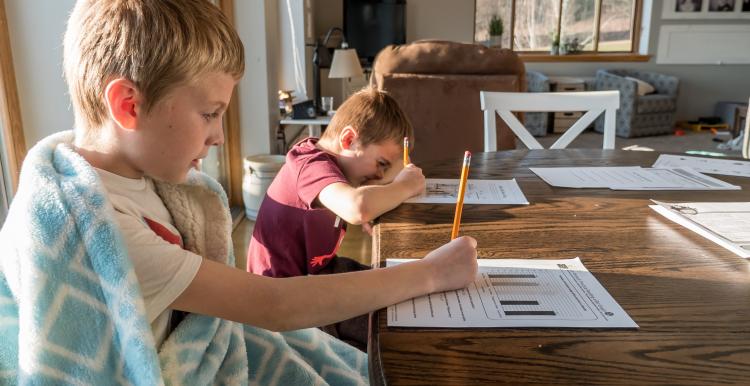 We caught up with Dan about what life is like for him and his two children aged eight and four right now.
"We have a support bubble with my Mum so we are really lucky that she home schools the kids for us between 10 and 3. If we didn't have her, it would be a lot harder.
It's really hectic in the house before they leave and again when they come home. They need attention from us which makes it much tricker to juggle work during those hours.
Before the pandemic, the children would spend a lot of time with Nan so it's good that they have some normality and that they still have that connection. The school have been good and have said 'don't worry about missing deadlines, just submit the work for teachers to see'. The school appreciate that we're both working and they're more relaxed this time. They've really made an effort to see how families are coping. Their focus is more about mental health and the care of young people which is great.
When would an adult be in a kid's classroom? When would a child be in an office?
"The hard part is the blurred boundaries of school/office/home. When would an adult be in a kid's classroom? When would a child be in an office? That's a bit of a challenge. It has helped hugely knowing we have my Mum to help. We know that from 10-3 we can do our jobs. The hardest part is at 3pm; they want to say hello, my Mum wants to tell me about their schoolwork, and I have to upload it online for the school to see. Its not bad but it's not ideal!
We didn't have the help from Mum in the first week of lockdown and my son knew I was working. He had a habit of walking in and climbing onto the fridge to get food. We regret having an open plan layout and taking the doors down now!"
Lockdown can have its positives too
"It's positive that we can spend more time together, but on the flipside, you can spend too much time with someone. I try to make a habit of turning the computer off at 5pm, I try to keep that as a rule as best as I can. At lunchtime me and my wife have actually been cooking which is kind of relaxing. We have dinner earlier and then we watch TV, and the kids sit with us which we've never really done before. But in terms of exercise, Jesus that's gone backwards!"
Are you a parent or carer who is currently balancing working from home and home-schooling your children? Tell us your story.
What are the struggles or the positives? What are you and your family doing to cope? Are you feeling overwhelmed or enjoying having your children around more?
Get in touch here
If you are struggling and need support don't be afraid to reach out. Information is available here for people experiencing a range of mental health and wellbeing issues.