In June we released out Annual report, which you can download at the bottom of this page. It shows the various ways Healthwatch continues its efforts to ensure the public experience is heard.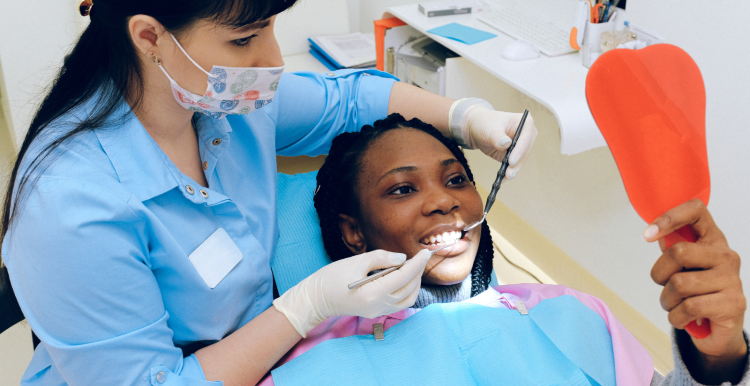 Listening to you Every week we hear from people like you who are struggling to get an appointment with an NHS dentist. We hear from people who are in distress and have spent hours trying to find a dentist who will treat them.
Earlier in the year we shared how Healthwatch  had helped John get an emergency dental appointment with an NHS dentist.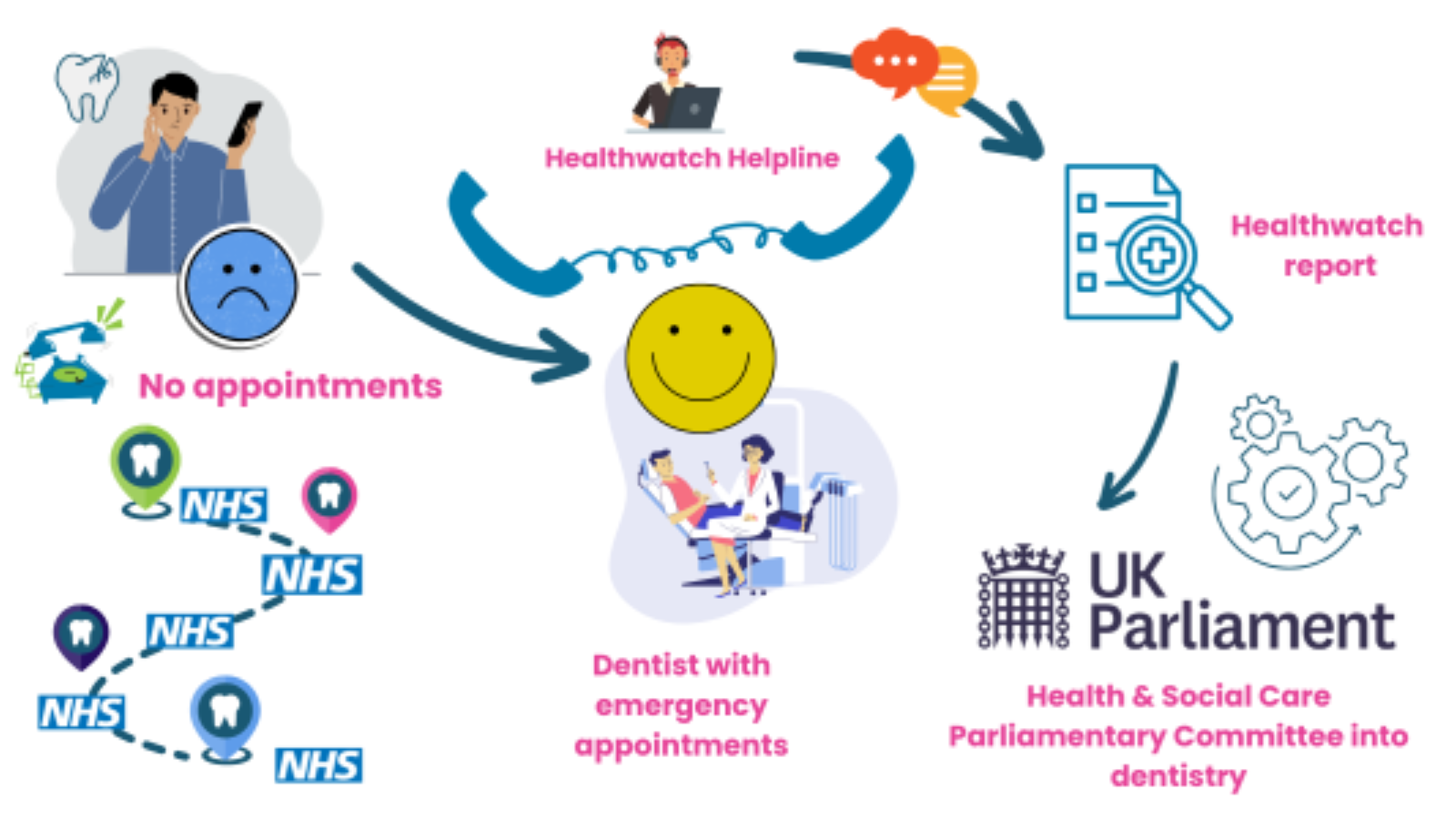 After painfully struggling through failed attempts with 30 other dentists our helpline was able to help John, a reflection of countless ways we ensure services know about your needs. Below are the various other ways we have worked within to drive improvements within the health system to improve your experience of dental care.
Recently We made sure John's story, and your voice was heard during a parliamentary inquiry that has resulted in the Health and Social Care Committee's report on NHS Dentistry.
This national report has now been highlighted in an impactful BBC story in May, and we share below the most recent from July.  
Listening and raising your voice in Parliament
In spring we shared how our relationship with the public had enabled us to gather and submit evidence to this Health & Social Care Parliamentary Committee into dentistry.
Our evidence highlighted the struggles that people have trying to find an NHS dentist.
The enquiry was a response to a BBC investigation which Healthwatch England comments on here. Multiple regional Healthwatch (including Medway and Kent) responded to a call for supporting data. Our data showed that some people are more likely to find it harder to see a dentist than others including:
·       People who are dependent on a carer
·       People with disabilities including mental health issues
·       Children
The full report was released recently and reported on by the BBC. To read the BBC coverage of the national report click here.
Part of the coverage highlights the difficulties and distances people are facing to get to appointments. Elsewhere in this newsletter we discuss local NHS plans to update the non-emergency patient transport (NEPTS) eligibility criteria. Healthwatch would be keen to hear from you if you'll be affected by these potential changes.
The impact of sharing your experiences The attention the report is receiving, both from the public and politically shows the power of your stories. This work draws from around 30 submissions, which include a joint submission by Healthwatch Medway and Kent (involving many more Healthwatch as many others were jointly prepared). Additional round table were held, also hosting several Healthwatch. To fully access the submissions, including those including many of the stories shared by local residents like yourself, click the button below.
Future work Whilst the report represents much of what Healthwatch has recommended over the years, we are keen that the NHS continually hear of your experience to best adapt their provision to meet your care needs.
To help you be heard by the NHS we are supporting the wider Integrated Care Strategy (for your opportunity to have your say see elsewhere in the newsletter) and working to inform the Primary Care Strategy. Follow this link to have your say on the future of Primary Care provision, including a specific opportunity to be heard around Dentistry.
Primary Care:
What people have told us about dentistry?
A more focused and recent report summarises the feedback received from people via Healthwatch Medway,  Healthwatch Kent and Kent and Medway Voice about their experiences of primary care dentistry from November 2022 to April 2023. This includes 34 separate pieces of feedback.As most feedback came from people who contacted us proactively, it was more likely to be negative. Nonetheless, no positive feedback was received during this period.
To see reports from our work on primary care please visit here