Spotlight on community equipment
We proactively gathered feedback about peoples' experience of using the community equipment service in Medway.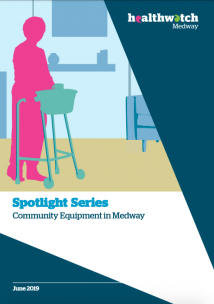 Summary
In May 2019, we proactively sought feedback from people who are using community equipment across Medway. This service is currently provided by the Medway Integrated Community Equipment service or MICEs.
"I had a very good service. I had to replace some items but it only took three days."
Key findings in our report
We heard a range of feedback including: 
Challenges to get the right equipment at the right time
Deliveries being cancelled or changed with no notice
"My father was left for weeks without equipment. It meant my father's discharge from hospital was delayed."
Everything we heard is detailed in our report below. Do continue to share your experiences of the community equipment service with us.