Meet the people using their voice to make a difference to care of others
Five people and groups have been shortlisted for a national award that celebrates local people who, through their dedication, have helped improve health and care for their community.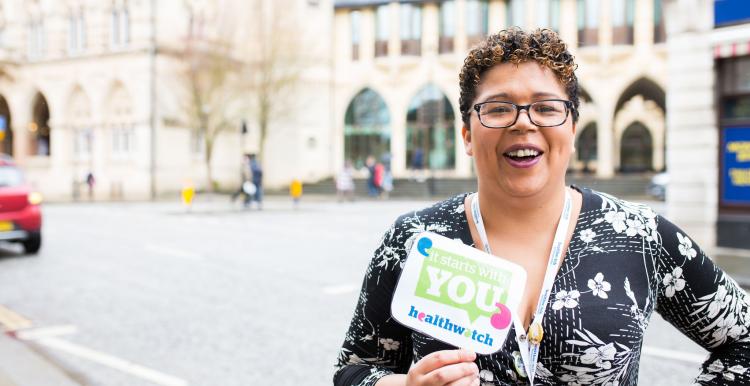 The 'It Starts With You' award aims to recognise local individual's or groups who have passionately worked towards improving health and social care services for their community.
Nominated by their local Healthwatch, the shortlist for this year award includes:
Errol Campbell, nominated by Healthwatch Bristol, for his work raising awareness of the risks of prostate cancer in the Afro Caribbean community and encouraging more men to get tested.
 
Tony Bentley, nominated by Healthwatch County Durham, who after struggling to find the information he needed online to choose a care home for his mother, campaigned to get care homes in his county to improve the information they make available on their websites.
 
Families of Nascot Lawn, nominated by Healthwatch Hertfordshire, whose efforts stopped the closure of a service that provides short breaks for children with disabilities and learning disabilities.
 
Becky Lawley, nominated by Healthwatch Dudley, for her work to raise awareness of anxiety and encourage people to listen more to young people. Becky produced a film and other resources that can be used by professionals to support young people experiencing mental health challenges.
 
Sandra Bell, nominated by Healthwatch Northamptonshire, for her work to draw attention to issues deaf and hard of hearing people can face in accessing healthcare services. As a result of her efforts, the local NHS has taken steps to improve the training of staff and provide online and face to face British Sign Language translators.
The shortlist has been announced to mark the start of the 'It Starts With You' campaign. The campaign aims to highlight the difference that people are already making to health and social care services by sharing their experiences and to encourage more people to have their say.
"It's heartening to see a growing culture of people sharing their experiences. It might just feel like your story, but if it matters to you, it matters to us, and it really can make a difference"
Last year, 341,000 people told local Healthwatch what they think about health and care support. Thanks to people sharing their ideas and experiences with their local Healthwatch, services across England have made positive changes that benefit those who use them. But, to make the biggest difference, we need to hear from even more people.
Calling for people to get involved, Imelda said:
"However big or small the issue, Healthwatch wants to hear about it from you. If it's important to one person, it's very likely that it affects other people, too. 

"By sharing your story you can help doctors, dentists, hospitals and care homes understand what's working and what could be better, for you and your community.