Spotlight on Young Carers
We've recently spent time listening to the experiences of young carers in Medway. This report shares the feedback that they told us.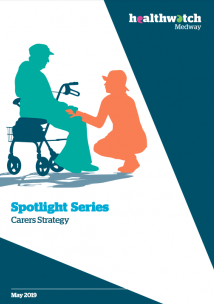 Summary
Whilst listening to people about their experience of being a Carer, we also talked to them about the draft Carers Strategy which is being developed by Medway Council and Medway Clinical Commissioning Group.
Four findings from our research
All of the Carers we spoke to had experienced bullying at school.  One child told us this had continued for 5 years until he felt "suicidal".
Carers told us that they are so busy focussing on someone else they lose their own identity.  Carers asked for help to 'find who they are'.

They talked about being "in limbo" as they transitioned between child and adult services.

Their support worker reported an increase in young carers who were suffering from depression and self-harm.
You can read the full report here.