What have we achieved this year?
19,714 people came to us for clear advice and information about topics such as mental health and the cost-of-living crisis.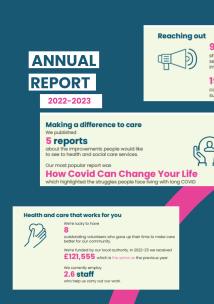 We've picked our best bits from the year to share with you:
947 people shared their experiences of health and social care  services with us, helping to raise awareness of issues and improve care.
We informed Medway Council on resident's needs of short-term care after leaving hospital
We spoke to people diagnosed with a mental health condition for feedback around a new proposed service providing tailored support for Mental Health Care in A&E
We evaluated local voluntary and community services, to support their continued funding
We supported the creation of the Medway Oral Health Strategy
We promoted the voice of young people accessing mental healthcare
We helped Afghani resettlers to access primary care services
With our suggestions, a local GP made their complaints procedure more accessible
We helped a resident with sight loss receive the equipment need to monitor their own blood pressure
By working with us, our volunteers feel proud to be able to influence health and social care for local people
All the details, plus much more are in the report below, including information on our priorities for the year ahead which include:
1. Talking to children and families during holiday club activities about oral health
2. Exploring supervised teeth brushing sessions in schools and care homes
3. Water refill stations across Medway to reduce the need for people to buy high sugar drinks, such as fruit juice and fizzy pop
Would you like to get involved?
Join the action and volunteer with us! We're looking for people to help us achieve even more. If you like chatting and listening to people, or have a passion for helping your community; get in touch. Email us at enquiries@healthwatchmedway.com